THE BODY, MIND AND SPIRIT JOURNAL
NAMAH is a pioneer,
peer-reviewed, body, mind and spirit journal
with an integral vision looking at the influence of the spirit or soul in psychology and health.
Evolution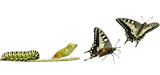 Evolution is not finished. In fact if evolution ever happened, then it can never stop. New challenges are bound to appear on planet Earth and along with it new possibilities of adaptation and change. This change is bound to involve all levels of our humanity, — spiritual, intellectual, emotional, vital, nervous, sensational and ultimately the very physical, a cellular change so to speak. This article attempts to explore some of these evolutionary challenges we face today and how we can consciously participate in them. Read more...
---
Science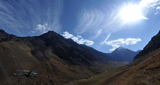 Systematise we must, but even in making and holding the system, we should always keep firm hold on this truth that all systems are in their nature transitory and incomplete. Read more...
---
Integral Health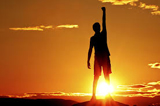 Does spirituality endorse an obliteration of the individual in the vastness of the Absolute? Indeed, the experiential contact with the Absolute is so overwhelming, awe-inspiring and total that individuality loses its relevance and what remains is only a cosmic vastness or an all-effacing transcendence. Read more...
---
Think it over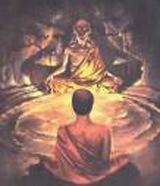 A great sage gave an inspiring discourse on spirituality to a group of people gathered in his house. After the talk was over, a young man from the group approached the sage and said,
"Sir, I am very much inspired by your talk. Tell me what I can do to enter into spiritual life." Read more...
---
Traditional healing

We are living in times where short cuts in speech are becoming common. The mind of a human has become impatient with words. Yet words carry vibrations that affect our being long after they are spoken. And every word in Sanskrit has a meaning.... Read more...