Consciousness and health
Microbes: their origin and the forces behind them
And then if there is a group of such small entities, they may clash with one another, because among themselves they do not have a very peaceful life: clashing with one another, fighting, destroying, demolishing each other. And that is the origin of microbes. They are forces of disintegration. But they continue to be alive even in their divided forms and this is the origin of germs and microbes. Therefore most microbes have behind them a bad will and that is what makes them so dangerous. And unless one knows the quality and kind of bad will and is capable of acting upon it, there is a ninety-nine per cent chance of not finding the true and complete remedy. The microbe is a very material expression of something living in a subtle physical world and that is why these very microbes... that are always around you, within you, for years together do not make you ill and then suddenly they make you fall ill.
There is another reason. The origin of the microbes and their support lie in a disharmony, in the being's receptivity to the adverse force. I will tell you a story. I do not know whether I have already told it to you, but I am going to tell you now for it will give you an illustration. I was in Japan. It was at the beginning of January 1919. Anyway, it was the time when a terrible flu raged there in the whole of Japan, which killed hundreds of thousands of people. It was one of those epidemics the like of which is rarely seen. In Tokyo, every day there were hundreds and hundreds of new cases. The disease appeared to take this turn: it lasted three days and on the third day the patient died. And people died in such large numbers that they could not even be cremated, you understand, it was impossible, there were too many of them. Or otherwise, if one did not die on the third day, at the end of seven days one was altogether cured; a little exhausted but all the same completely cured. There was a panic in the town, for epidemics are very rare in Japan. They are a very clean people, very careful and with a fine morale. Illnesses are very rare. But still this came, it came as a catastrophe. There was a terrible fear. For example, people were seen walking about in the streets with a mask on the nose, a mask to purify the air they were breathing, so that it might not be full of the microbes of the illness. It was a common fear.... Now, it so happened I was living with someone who never ceased troubling me: "But what is this disease? What is there behind this disease?" What I was doing, you know, was simply to cover myself with my force, my protection so as not to catch it and I did not think of it any more and continued doing my work. Nothing happened and I was not thinking of it. But constantly I heard: "What is this? Oh, I would like to know what is there behind this illness. But could you not tell me what this illness is, why it is there?" etc. One day I was called to the other end of the town by a young woman whom I knew and who wished to introduce me to some friends and show me certain things. I do not remember now what exactly was the matter, but anyway I had to cross the whole town in a tram-car. And I was in the tram and seeing these people with masks on their noses, and then there was in the atmosphere this constant fear, and so there came a suggestion to me; I began to ask myself: "Truly, what is this illness? What is there behind this illness? What are the forces that are in this illness?" I came to the house, I passed an hour there and I returned. And I returned with a terrible fever. I had caught it. It came to you thus, without preparation, instantaneously. Illnesses, generally illnesses from germs and microbes take a few days in the system: they come, there is a little battle inside; you win or you lose, if you lose you catch the illness, it is not complicated. But there, you just receive a letter, open the envelope, hop! puff! The next minute you have the fever. Well, that evening I had a terrible fever. The doctor was called (it was not I who called him), the doctor was called and he told me: "I must absolutely give you this medicine." It was one of the best medicines for the fever, he had just a little (all their stocks were exhausted, everyone was taking it); he said: "I have still a few packets, I shall give you some" — "I beg of you, do not give it to me, I won't take it. Keep it for someone who has faith in it and will take it." He was quite disgusted: "It was no use my coming here." So I said: "Perhaps it was no use!" And I remained in my bed, with my fever, a violent fever. All the while I was asking myself: "What is this illness? Why is it there? What is there behind it?... " At the end of the second day, as I was lying all alone, I saw clearly a being, with a part of the head cut off, in a military uniform (or the remains of a military uniform) approaching me and suddenly flinging himself upon my chest, with that half a head to suck my force. I took a good look, then realised that I was about to die. He was drawing all my life out (for I must tell you that people were dying of pneumonia in three days). I was completely nailed to the bed, without movement, in a deep trance. I could no longer stir and he was pulling. I thought: now it is the end. Then I called on my occult power, I gave a big fight and I succeeded in turning him back so that he could not stay there any longer. And I woke up.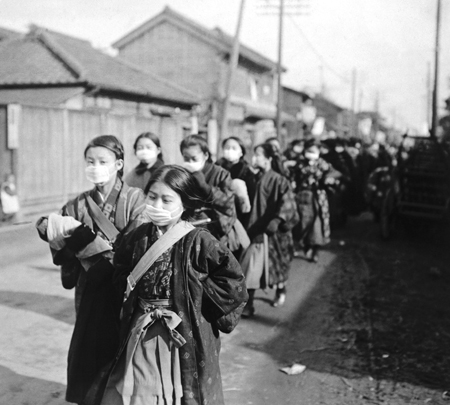 But I had seen. And I had learnt, I had understood that the illness originated from beings who had been thrown out of their bodies. I had seen this during the First Great War, towards its end, when people used to live in trenches and were killed by bombardment. They were in perfect health, altogether healthy and in a second they were thrown out of their bodies, not conscious that they were dead. They did not know they hadn't a body any more and they tried to find in others the life they could not find in themselves. That is, they were turned into so many countless vampires. And they vampirised upon men. And then over and above that, there was a decomposition of the vital forces of people who fell ill and died. One lived in a kind of sticky and thick cloud made up of all that. And so those who took in this cloud fell ill and usually got cured, but those who were attacked by a being of that kind invariably died, they could not resist. I know how much knowledge and force were necessary for me to resist. It was irresistible. That is, if they were attacked by a being who was a centre of this whirl of bad forces, they died. And there must have been many of these, a very great number. I saw all that and I understood.
When someone came to see me, I asked to be left alone, I lay quietly in my bed and I passed two or three days absolutely quiet, in concentration, with my consciousness. Subsequently, a friend of ours (a Japanese, a very good friend) came and told me: "Ah! you were ill? So what I thought was true.... Just imagine for the last two or three days, there hasn't been a single new case of illness in the town and most of the people who were ill have been cured and the number of deaths has become almost negligible, and now it is all over. The illness is wholly under control." Then I narrated what had happened to me and he went and narrated it to everybody. They even published articles about it in the papers.
Well, consciousness, to be sure, is more effective than doctors pills!... The condition was critical. Just imagine, there were entire villages where everyone had died. There was a village in Japan, not very big, but still with more than a hundred people, and it happened, by some extraordinary stroke of luck, that one of the villagers was to receive a letter (the postman went there only if there was a letter; naturally, it was a village far in the countryside); so he went to the countryside; there was a snowfall; the whole village was under snow... and there was not a living person. It was exactly so. It was that kind of epidemic. And Tokyo was also like that; but Tokyo was a big town and things did not happen in the same fashion. And it was in this way the epidemic ended. That is my story.
---
* Heading provided by the Editor.











*The Mother. The Collected Works of the Mother, Volume 5. Cent ed. Pondicherry: Sri Aurobindo Ashram Trust; 1976, pp. 182-85.
Share with us (Comments,contributions,opinions)
When reproducing this feature, please credit NAMAH,and give the byline. Please send us cuttings.